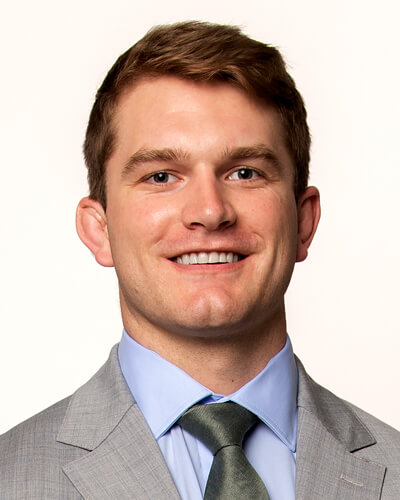 Dr. Joshua Seeberger was born and raised in Missoula, MT. He attended undergrad at Carroll College in Helena, MT where he completed collegiately in Track and Field and received his B.A. in Biology. Dr.Seeberger received his dental degree from Western University of Health Sciences in Pomona, CA.
He recently completed a 1 year general practice dental residency at the San Francisco VA Medical Center where he was able to gain further experience in complex restorative work, endodontics, oral surgery, and implant dentistry.
He has always had a passion for helping others and is currently a Captain in the Army Reserves as a dental officer. Dr.Seeberger is grateful to be in a position where he can help others achieve and maintain a pain free smile that they can be proud of.
Book Online Now
Complete the form below to book your appointment today.
Office Hours
Monday

7:30 AM – 5:00 PM

Tuesday

7:30 AM – 5:00 PM

Wednesday

7:30 AM – 5:00 PM

Thursday

10:00 AM – 7:00 PM

Friday

8:00 AM – 1:00 PM
CareCredit
CareCredit is a healthcare credit card designed for your health and wellness needs. Pay for the costs of many treatments and procedures through convenient monthly payments.
Making Bloomington Smile


The staff was amazing from the moment I called about a possible broken tooth. Everyone was personable, down to earth and its apparent to me that everyone is well educated in their field. I ultimately had 3 appointments in a matter of 5 days for a general exam, a deep cleaning (which was surprisingly not bad and I had no real pain during the cleaning) and for a filling. And thanks to the available…

Heather R.



Love everything about my visit! Professional- courteous – patient -thorough! Will definitely recommend !

Michelle G.



Great service cleaning of teeth 10 out of 10 no pressure 2 have other work done Thank you so much

Bill B.



The office staff is beyond welcoming and friendly. They got my 10 yr old son, who was a new patient, in within a day for an emergency appointment. The dentist and hygeinist went above and beyond to make sure he was comfortable and did everything possible to keep him pain free during his procedure. Would highly recommend this office.

Jessica D.



The office staff has been awesome from the beginning. I was worried about making the payments being a person on a tight budget with school loans and am appreciating the fact that they will work with me.

Brandi R.



Always very friendly staff.

Kenneth L.



Very professional and courteous

Joseph K.



Great staff nice doctors

Donathen P.



Everybody was very friendly and nice and answered any question you had. I like when people tell me upfront what is going to be happening instead of just doing it.

Joy H.



First time there.Thourough cleaning. Great staff, friendly doctor. I saw Dr. Weiss.

Brandon H.



We made new patient appointments and daycare fell through for kids. Everyone was extremely kind and patient with our babies and managed to give great care and a great cleaning in a comfortable environment

Clair C.



Friendly staff, quick visit and great service provided.

Michelle F.



Cindy was fantastic in helping me receive an excellent cleaning and also in answering all of my questions about my dental health. I appreciate her work, Dr. Weiss' expertise, and everyone's assistance at the office. I have already booked my next appointment. :)

David M.



Friendly and got me in immediately to see the dentist

Kristan K.



Everyone there from the office staff, hygeniests, and doctors are all just really friendly. I never feel like a burden with questions.

Stephanie S.



Everyone is very friendly and sincere!

Diane A.



Excellant sevice and care.

Susan A.



The receptionist greeted me by name, short wait time, and my dental hygienist Beth does a great job and is very personable.

Brenda M.



Excellent professional service with my issue.

Eugene R.



I like the whole staff

Juanita W.



Im comfortable there and can trust the level of care i will receive.

Brooke B.



Wonderful time with the entire experience from cleaning to check up!

Brittany T.



Very professional and very friendly.

Tom T.



Competent, professional, friendly people.

Jill M.



Wonderful Service and professional and friendly. Thanks so much!

Lyndetta A.



Everyone was friendly, the services were thorough and fast.

Caroline B.



Competent team of doctors and staff. Very professional but friendly.

Harriet W.



Cindy is awesome.

Krista W.



Staff is friendly.

Pamela H.



TREATMENT GOOD FOR TEETH AND TREATED LIKE A RERSON

Irvin B.



Cleaning and checkup very well done.

David R.



Friendly staff. Cindy always does a great job, making my teeth extra clean and polished.

Pamela D.



Friendly, efficient

Thomas B.



Everyone there was super friendly professional and made me feel very comfortable throughout the tough process

Randy H.



Service, convenience and hours of service.

Marc T.



Very professional staff and great work by Dr. Weiss.

Jill H.



Got me in quickly when I had a dental problem. The amount charged was reasonable. I highly recommend this office for your dental needs.

Robert Z.



Everything went great and everyone was fantastic!

Jodi S.



The staff is friendly and thorough. We never have to wait long and they're attentive to my needs.

Ian K.



Extremely caring and professional staff. From Doctors to receptionist, all are wonderful.

Aden S.



Very professional and friendly.

Jill H.



Cassie is always amazing! So personable and always makes my time there enjoyable!

Molly M.



Everyone was friendly, helpful, personable, and open about my dental care.

Molly R.



Receptionist, Dental hygienist and doctors all very friendly and helpful.

Aden S.



Because your entire staff is a cut above the other practices in this town. They are always courteous, accommodating and pleasant. I truly appreciate their experience and kindness

Paula N.



The staff is very friendly and explain things before they do them – physically & financially. They also never keep you waiting long before you are seen!

Rick G.



We love Cassie!!! She is so friendly and great at her job! She is the reason we keep coming back! :)

Kristen L.



They always make me feel welcome. They make the visit personal to my needs as well as talking to me about my life outside of the dentist chair. I always look forward to my visits I really love it here.

James C.



Great people , professional.

Robert M.



I've always had very good and prompt service

James B.



Great Office and employees

Edward B.



The staff is very professional and friendly.

Beatriz O.



Cindy my hygienist is awesome!

Pamela M.



Just was able to get quickly, I keep a busy schedule going back and forth to my job in Springfield. Keep up the good work.

Mike C.



Friendly staff that listed to what I have to say

Jerry A.



the office schedule is always running on time and I don't have to wait. Staff is efficient and courteous. I get a great cleaning which is why I was there

Suzanne G.



Staff is wonderful and service was excellent!

Kimberly D.



I needed to get in ASAP after the holiday weekend to fix a loose crown; I left a message on Memorial day and you fit me in the next day!

Cheryl W.



Professional, thorough company with great staff.

Shari C.



Staff was extremely friendly.

Daylyn W.



The staff were all timely and very informative.

Megan C.



Everything just went great the staff was friendly and helpful and the doctor was very nice as well .

Jodi S.



Everyone is very nice and calming and non-judgmental about my extreme dental anxiety. Everyone explains what they're doing and why so I know exactly what's going on.

Emily S.



The friendly efficient staff. I have a great deal of confidence with the treatment I received.

Dorene E.



The staff is so caring and professional. They make going to the dentist a pleasant experience

Gail C.



I think everyone there is very gracious and genuine. I adore Cassie! I plan my next teeth cleaning before I go so I get her!

Diane A.



Cassie was my hygienist and she did an awesome job in cleaning my teeth. Dr. Weiss came in for a check-up and he was very nice and thorough.

Sharon W.



Beth is the Best

Jack W.



Everyone is so friendly, I feel each receptionist, hygienist, dentist and orthodontics tall truly care about you!!

Maggie F.



Friendly atmosphere. Long term patient.

Jason H.