Posted under:
General
Posted on: August 31, 2022
Spreading Awareness About the Importance of Gum Care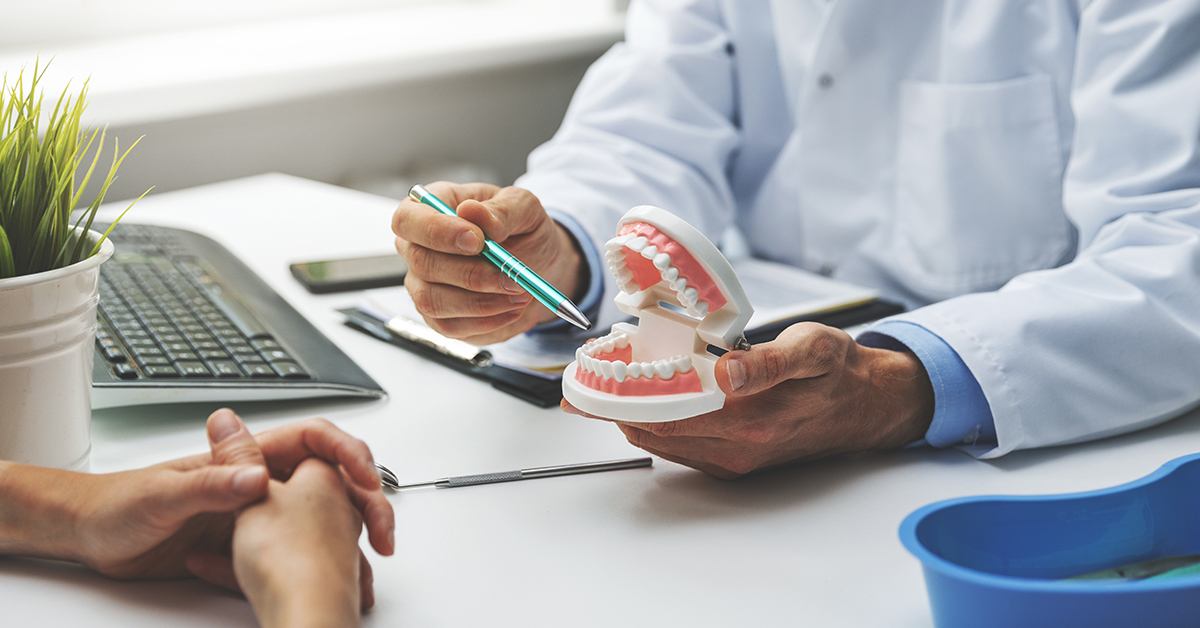 When you think of the month September, what do you think about? Well, dentists are hoping that you are thinking about gum care. That's because September is the official month of Gum Care Awareness. The goal is simple: Spread information about the importance of gum care and the dangers and warning signs of gum disease.
The fact is that gum disease is a problem for people of all ages. However, it's an even bigger problem for adults over the age of 35. Research shows that the majority of tooth loss among people in this age group is caused by gum disease. Thus, teaching people about gum care is an important step in stemming this problem.
Since National Gum Care Month is upon us, let's take a few minutes to talk about some important information that you should know. Knowing what gum disease looks like is essential because it can help you receive treatment sooner. The faster that you seek treatment, the easier it will be for your Bloomington dentist to fix the problem.
A Healthier You Starts With Healthy Gums
Before we jump into how to care for your gums, let's talk about how the health of your gums affects the health of your whole body. Your gums aren't just important for your oral health. If your gums become infected, it's easy for that infection to spread throughout your body. For that reason, gum disease can lead to stroke and heart disease.
Some studies even suggest that gum disease can lead to other problems, such as Type 2 diabetes. The problem is that many people don't understand that these two issues can be related. National Gum Care Month hopes to change that.
Steps You Can Take to Care for Your Gums
Now that you have a better understanding of how dangerous gum disease can be, let's discuss how to prevent it. The best way to prevent gum disease starts with a good oral hygiene routine. Hopefully, you are already using some of these tips in your oral care routine.
Brush Those Teeth
Your first order of business is to make sure that you brush your teeth. You need to brush your teeth at least twice a day. If at all possible, you should brush after each meal, but that is unrealistic for some people because of their busy schedules. Still, everyone should brush twice a day at minimum.
Beyond brushing, you need to pay attention to what you brush with. Make sure that your toothbrush has soft bristles. Hard bristles can cause problems with your enamel and irritate your gums. This is the same reason why you should change your toothbrush every three months. Over time, the bristles get hard and full of bacteria. Changing it every few months prevents this.
Next, make sure that you have a toothbrush that has bristles of varying lengths. This makes it easy to clean your teeth from different angles. It also makes it possible to clean your teeth while brushing your gums at the same time.
Don't Neglect Flossing
Flossing your teeth is just as important as brushing your teeth. Despite this, many people don't floss as much as they should. If you want to keep gum disease at bay, you need to floss your teeth every day. This helps remove food particles from between your teeth while also stimulating your gums.
Visit the Dentist Regularly
Of course, brushing and flossing alone aren't enough. You also have to make sure that you visit your Bloomington dentist regularly. By doing this, your dentist can give your teeth the proper cleaning that they need. The dentist can also spot signs of gum disease early. As mentioned above, the sooner you spot gum disease and seek treatment, the easier it is to reverse.
How to Spot Gum Disease
Spotting gum disease isn't always straightforward because it has different stages or progressions. The goal is to spot it quickly so that treatment is easier. However, that can be difficult when the gum disease symptoms are mild in the beginning.
Once again, this is why visiting your local dentist is so important. Only professionals can confirm the early signs of gum disease. Despite that, it's helpful to understand the three progressions of this condition.
Stage One: Gingivitis
The most well-known stage of gum disease is gingivitis. It's the one that most people have heard the most about. It's also one of the hardest to detect because the early signs of gingivitis are mild. Sometimes, people with gingivitis experience bleeding when they brush or floss their teeth. Other times, their gums will just be a little red in the affected areas.
Stage Two: Periodontitis
The symptoms of stage two gum disease are more noticeable. For instance, there's a lot more bleeding when it progresses to periodontitis. That being said, you may start noticing pain and swollen gums too. The swelling often occurs as pockets start to form within the gums. These pockets can trap food and bacteria in them, making gum disease progress at a rapid rate.
Stage Three: Advanced Periodontitis
The goal is to make sure that gum disease never reaches this level. If it does, treatment is much harder. At this stage, you may start having loose teeth. In some cases, teeth in the affected areas start to fall out. The reason is that gum disease destroys the connective tissues and bones that support your teeth. Once gum disease reaches this level, only oral surgery can repair the damage.
Let Us Help You Prevent Gum Disease
Do you want to prevent gum disease? If so, we can help. In fact, we can make sure that you never develop gum disease in the first place. All you have to do is come in for regular checkups. This makes it easier for us to provide the support that you need to keep your gums healthy and happy. If you are looking for gum disease treatment in Bloomington, give us a call today. We can set up an appointment for you.