Posted under:
General
Posted on: May 26, 2021
Reasons and Remedies for Tooth Discoloration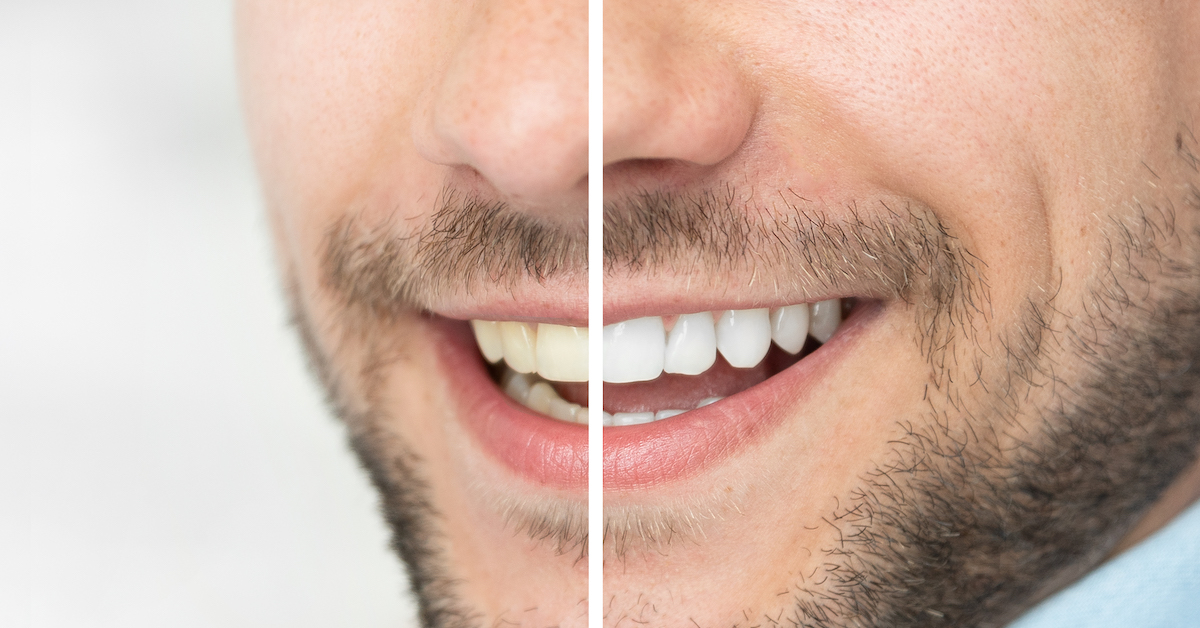 If you have dark and discolored teeth, you know how embarrassing this issue can be. Many people who suffer from this common dental issue feel less confident because of it. Fortunately, there are steps that you can take to bring your smile back to life and to increase your confidence.
The Reasons Why Teeth Become Discolored
Discolored teeth can be caused by many different things. The primary causes of the problem include injury to a permanent tooth, various medications, and aging, which leads to enamel erosion that makes the dark layer of dentin underneath visible. Other factors that contribute to discoloration and staining include the things you eat and drink, as well as tobacco use of any kind.
How Food Leads to Stained Teeth
Your diet has a big part to play when it comes to stained or discolored teeth. Many popular types of food and drink can cause your smile to darken. Here are some of the primary culprits:
Sugary Beverages – Drinking soda, fruit juice, or any kind of sports drink leads to enamel erosion. This is because these beverages are full of sugars that wear away your tooth enamel.
Dark Drinks – Consuming tea, coffee, and red wine over time can lead to staining. It also leads to enamel erosion because of the acids contained within these drinks.
Sweet Snacks – Eating candy, gum, or other sweets full of sugar will weaken the enamel of the teeth.
Starch-Stuffed Foods – White breads, pastas, cereals, potatoes, and rice contain sneaky sugars that also attack the enamel.
How the Foods You Eat Can Fight Tooth Discoloration
One of the easiest things you can do to prevent tooth discoloration is to eat a healthy and balanced diet that is full of a variety of nutrients. The following foods are excellent choices when it comes to keeping your smile as white as possible:
Water – Not only is this a refreshing beverage to drink, but it also rinses the mouth of acids, sugars and food particles that can cause enamel erosion.
Sugar-Free Drinks – Beverages that don't contain any sugar are also a good choice to wash out substances that lead to erosion.
Milk and Cheese – Dairy contains calcium and protein that make the teeth stronger, healthier and less prone to erosion. It also increases the amount of saliva in your mouth, which means that harmful acids and bacteria will be washed away more frequently.
Fish and Flax Seeds – The strongest anti-inflammatory nutrients we can eat are known as omega-3 fatty acids. Flax seeds and fish are full of these nutrients. Anti-inflammatories reduce inflammation and reduce your risk of developing periodontal disease.
Cocoa – This also reduces inflammation. Cocoa can also protect your teeth from erosion and decay.
Has Smoking Burned You with Tooth Discoloration?
One of the most common side effects of smoking is tooth discoloration and staining. Continue reading to find out how you can eliminate staining caused by smoking and tobacco use.
Pack Up the Truth About Cigarettes and Stained Teeth
Dental health professionals agree that using tobacco is one of the leading culprits behind tooth discoloration. Keeping your smile white is best achieved by avoiding this habit. Using tobacco in any of its forms not only leads to stains on the teeth, but it can also increase your risks of developing gum disease.
Ways to Rid Yourself of the Problem of Tooth Discoloration from Smoking
Of course, quitting smoking is sometimes easier said than done. If you aren't able to quit the habit right away, there are some things that you can do to get rid of stains caused by tobacco use. Here are some helpful hints that can reduce the severity of this problem:
See your dentist to have your teeth cleaned twice a year.
Maintain a habit of daily brushing, flossing, and rinsing with an antibacterial mouth wash.
Brush the teeth after eating and smoking.
Maintain a balanced diet.
A Whiter Smile Is Possible
You may not believe it, but a whiter smile is within your reach. There are a variety of whitening treatment options available that can rid you of the most stubborn stains caused by smoking. If you choose to smoke after completing your whitening treatments, you should know that the stains will probably come back. Speak with a dentist about the below tooth whitening treatment options:
Professional whitening treatments done in the office. This type of treatment produces significant results in a fast period of time.
At-home whitening treatments that you purchase from a store. These are great for minor stains but can lead to tooth sensitivity.
Whitening toothpastes that you can purchase from the store. This option may improve slight stains and prevent future ones.
Tips to Prevent the Discoloration of the Teeth
Nobody wants to deal with stained teeth. Luckily, there are many things you can do to prevent the issue from occurring. These include:
Brushing, flossing, and rinsing out the mouth with an antibacterial mouth wash every single day.
Brushing your teeth whenever you consume a meal or a snack.
Rinsing your mouth out with water whenever you have a dark-colored beverage.
Treating dental health issues as soon as possible.
Receiving professional cleanings twice a year.
Tactics to Treat Stained Teeth
There are so many options available for you to choose from when it comes to whitening your teeth. Popular choices are:
Professional treatments from a dentist to deliver fast, dramatic and effective results.
At-home whitening kits from a dentist to remove many types of stains; however, these take more time than in-office treatments.
Over-the-counter teeth whitening kits work, but aren't as strong as professional treatments, so they will take longer and won't be as effective.
Tooth whitening toothpastes are able to get rid of light staining.
Dental veneers or crowns can cover signs of tooth discoloration in instances where the teeth are resistant to whitening treatment products.
Speak with a dentist to find out more about how you can whiten your teeth and improve your self confidence in the process.