Posted under:
General
Posted on: November 19, 2020
Invisalign: Frequently Asked Questions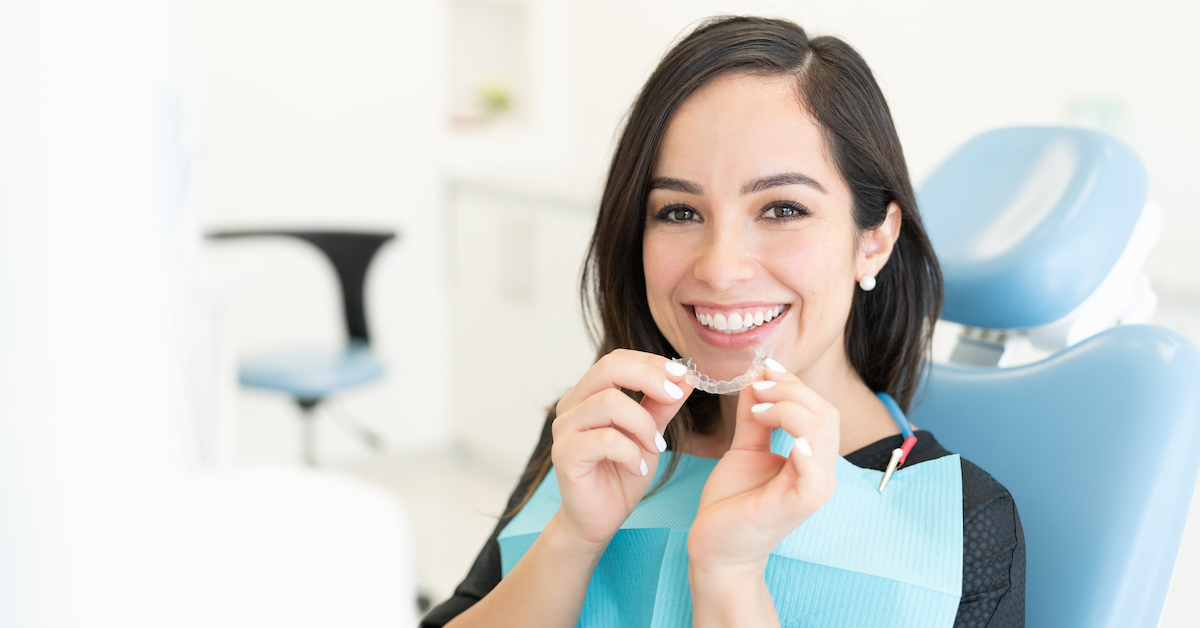 Do you find yourself hiding your smile from the world because your teeth are crooked or you have large gaps between them? Having crooked teeth or other orthodontic issues can deal a huge blow to your self-confidence. In addition, it can lead to a number of oral health issues. Invisalign is an innovative treatment method that can help to create the smile of your dreams without having to utilize traditional metal braces.
What Is Invisalign?
If you've ever wondered if there was an orthodontic treatment that was less noticeable than wire-and-bracket braces, you're going to be interested in learning about Invisalign. Invisalign is a type of treatment that utilizes a set of removable, clear aligners to straighten and/or move the teeth into their ideal positions over a period of time. The aligners are made out of a type of flexible plastic known as SmartTrack®, which is used to make a device that somewhat resembles a retainer. This device goes over your teeth. Invisalign aligners are custom-fitted, clear and thin. This means that they are both comfortable and effective. You'll also be able to address most mild to moderate orthodontic misalignment issues that you have in a discreet way.
Who Is a Good Candidate for Invisalign?
The best candidates for Invisalign tend to be teenagers and adults who desire to treat their dental misalignments in a discreet manner. Invisalign can assist in treating overbites, underbites, crowded teeth, and gaps in the teeth. It is important to note that more severe orthodontic issues may require more complicated treatment methods, such as metal braces or surgery.
If you're interested in pursuing Invisalign treatment for either yourself or your child, consider the following points:
Younger teens and small children aren't good candidates for this treatment option. This is because, at those ages, the teeth and the jaws are still in the process of growing and changing. This can make it difficult to fabricate aligners that will stay comfortable and effective during the treatment process.
While you can take out your aligners, you will need to commit to wearing them between 20 and 22 hours a day. It's important to note that they will only work when you are wearing them. If you or your child aren't diligent about putting them back in, you may be in need of a semi-permanent solution.
Do you care about people being able to see that you're receiving orthodontic treatment? While some people don't care about this aspect, others feel self-conscious about braces and other types of orthodontic treatment methods. If you want your treatment to be as discreet as possible, Invisalign could be an excellent treatment option for you.
Your dentist or orthodontist will ultimately determine whether or not Invisalign is right for you. Book a consultation with your dental health care provider to address your concerns, ask questions and to discover more about orthodontia.
How Do You Get Invisalign?
The process of getting Invisalign is completely customized. Your treatment will begin with a consultation with a local dentist or orthodontist who has been trained in properly carrying out Invisalign treatment. If it's decided that this is the right treatment option for you, your dentist will develop a treatment plan just for you.
The next step involves your dentist creating a mold of your teeth. This mold will be used to create your aligners. You will be given several sets of aligners. You will need to swap out aligners every week or two as your teeth slowly move into their new positions.
The majority of Invisalign patients complete their treatment within 12 to 18 months. Depending on your overall goals and how well you follow instructions from your dentist, you may have your aligners for more or less time than that. Your dentist will tell you how often you need to come in for a checkup, but many patients find that they go into the office every four to six weeks so that the dentist can check on their progress. One of the best aspects of Invisalign is that many patients start to see results within just a few weeks!
How Will Invisalign Impact My Life?
There aren't too many impacts upon your daily life when you receive Invisalign treatment. You will need to take your aligners out whenever you eat, drink or brush your teeth. It's important that you continue to take care of your oral health while you receive treatment. You should also avoid smoking and chewing gum when you are undergoing treatment with Invisalign.
You may experience a slight feeling of pressure every time you begin a new stage in your treatment. This is completely normal and will typically go away within a few days.
Since Invisalign aligners are made to fit your mouth, you don't have to worry about them affecting the way you speak. It may take a day or two to adjust to wearing the aligners, but once that time period is over, you won't notice you have them in at all.
Another concern that many patients have is whether or not anyone will be able to see their Invisalign aligners. While this type of treatment isn't completely invisible, it isn't as noticeable as other orthodontic treatments. Most people won't notice that you are wearing anything at all, especially if they're speaking with you from a distance. From up close, they may be able to see that you are wearing something. However, one of the benefits of this type of treatment is that you can take the aligners out as necessary. As long as you wear the aligners for at least 20 hours a day, you can allot those hours however you wish.
What Will Happen When I've Finished Treatment?
After you've reached your goals, you will be able to take out your aligners for good. In order to keep the teeth from moving out of place after your treatment is done, your dentist may suggest that you wear a retainer. If this is the case, your dentist will help you to make an educated decision about what kind of retainer is right for you.
How Can My Local Dentist Help?
Only specially trained orthodontists and dentists are able to provide Invisalign treatment. If you're interested in pursuing this type of treatment, schedule a consultation with our experienced team today. We can't wait to assist you in achieving the smile of your dreams.