Posted under:
General
Posted on: October 11, 2017
Don't Be Afraid Of Your Braces On Halloween!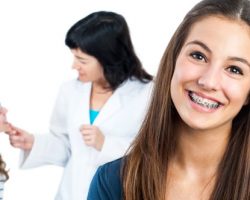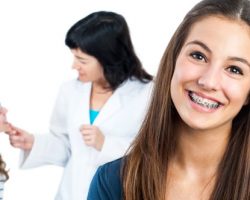 Wearing braces is so common among teens and pre-teens, it almost seems like a rite of passage. And that commonality is one of the things that makes traditional orthodontics more bearable because you know your friends are going through all the same things you are.
Kids understand that wearing braces is a means to an end. You wear them when you're young so that in a couple of years, you can have a straight, beautiful smile. But anyone who's ever undergone orthodontic treatment knows that it comes with limitations.
One of those limitations is with your diet. There are certain foods and sweet treats that are off limits because they're problematic for your braces. Halloween is one of those occasions that makes those restrictions more obvious.
Our team at the Foehr Group wants to remind anyone undergoing orthodontic treatment that you don't have to be afraid of what Halloween is going to do to your braces. You can still enjoy the holiday, and the candy it brings, with a few simple tips we're sharing in today's blog!
Know The Difference Between Tricks And Treats!
If you want to protect your braces and your teeth during Halloween, it's important to understand the difference between the tricks and the treats spilling out of your candy bowl!
Right off the bat, we want you to know the good news, which is that not all candy is off limits for you! Here are a few examples of safer Halloween treats:
Cupcakes & Cookies
For the most part, these are safe treats for braces wearers. Traditional cookies and cupcakes, both which are commonly found on the food table at Halloween parties, are fine to eat despite your braces as long as you make sure to rinse your mouth with water afterwards. This will help clean away any leftover bits that might stick to your brackets and wires!
Chocolate Candy
Chocolate can be a perfectly safe treat if you wear braces. What you should be careful for are chocolate candies that contain sticky or gooey stuff like caramel or hard ingredients like bits of toffee or nuts. It's also helpful to break up larger chocolate candy into smaller bite size pieces to avoid damaging your braces!
Soft Candy
Candy that's soft but isn't gooey or stringy is also acceptable if you wear braces. That would be something like candy corn, for example.
Hard Candy
This can be a bit tricky. The reason is twofold. For one thing, hard candy takes a long time to dissolve in your mouth, which gives bacteria in your mouth more opportunity to feed off of the sugar in it.
Another problem is that sometimes it's tempting to start chewing on hard candy before it dissolves, and then you risk breaking a tooth or even damaging your brackets and wires.
So hard candy is a safe treat as long as you're careful about not chewing on it and that you remember to rinse your mouth to clear away all the sugars left behind in your mouth.
You Can Still Enjoy Halloween With Braces!
Candy doesn't have to be totally off limits on Halloween if you wear braces. As long as you know which candy is a trick, and which is a treat, you can minimize the risk of damage to your orthodontic treatment and your teeth.

Being extra vigilant about oral hygiene this time of year is helpful, too! Taking an extra minute to rinse your mouth with water after indulging your sweet tooth will be another way to keep your braces safe.

And always remember that you can count on our team at the Foehr Group to help you keep your treatment on track and your braces in good shape!

If you or your child is wearing braces and you have questions or concerns about how to enjoy Halloween without hurting the brackets and wires, then call our Bloomington, IL dental office! We're always happy to help you on your journey toward a healthy, beautiful smile, no matter what time of year it is!

Call us at (309) 740-4241 today to schedule your appointment or book an appointment online.