Posted under:
General
Posted on: April 16, 2018
How To Complete Your Smile In 3 Hours Or Less!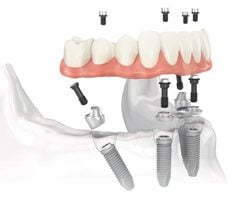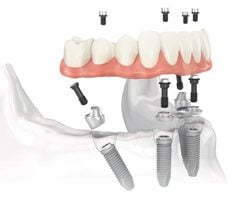 You can have a full set of teeth sooner than you think.
But that's only if you come to the right place, of course!
At The Foehr Group, we can help you finally have a healthy, beautiful smile in just one visit to our Bloomington, IL dental office!
How To Complete Your Smile In 3 Hours Or Less!
Here's a brief introduction to how our team at The Foehr Group can make that happen for our patients who are ready to have strong, lasting solutions to their tooth loss problem.
*First, Choose The Right Dentist*
Obviously, it all begins by choosing the right dentist!
Our highly-trained team of professionals is equally dedicated to your health, comfort, and happiness. That's why we invest in the most advanced technology to house in our Bloomington, IL dental office.
In other words, you're not able to get a full set of replacement teeth as quickly and efficiently in just any dentist office.
The Foehr Group, however, uses GuidedSMILE, which is a modern computer-based system that allows us to place four dental implants strategically so you get the best outcome. That means two implants in the front, and two implants near the back that are precisely angled for comfort, stability, and durability.
With the right guidance of this amazing method, we can optimize your replacement arch success so all your teeth are strong and functional, and your smile is beautiful once again!
*Get Ready For A Quick, Comfortable Procedure*
At The Foehr Group, we will meet with you for an initial consultation, where we can determine if this is the right system for you.
If it is, we start planning your placement procedure with GuidedSMILE.
One of the most significant improvements we've made in full-arch replacement thanks to this advanced technology is the how precisely we're able to plan your procedure. Knowing exactly where and how to place your dental implants means you spend less time in the chair, experience more comfortable treatment, and have an optimized chance for success!
GuidedSMILE is a modern method that makes faster, more effective placement possible in our Bloomington, IL dental office where you're the one who benefits almost immediately!
*Finally, Enjoy Your New Smile*
In just one visit to our Bloomington, IL dental office, you can get a full arch of replacement teeth that will look natural and beautiful.
Our implants and restorations are finely-crafted to suit your needs and goals, and you'll love what you see when you look in the mirror.
In as little as a few hours in our dental chair, your confidence can be fully-restored. Imagine walking out of our office finally being unafraid and unashamed of the way you look!
You can also start eating the foods you love without stress and anxiety about slippery, uncomfortable dentures. Soon, your nutrition and overall health can improve, and you'll feel stronger, more energetic, and more excited about the future!
Schedule A Consultation
Our team at The Foehr Group understands the sense of urgency you feel when it comes to replacing missing teeth.
That's why we invest so much in the latest methods in tooth replacement so you don't have to wait longer than you already have to have a healthy, beautiful smile!
With our GuidedSMILE system, you can start eating and smiling with confidence in just a few hours and enjoy a healthier smile for a lifetime!
Find out how you can get a complete set of replacement teeth you'll love! Call our Bloomington, IL dental office today at (309) 740-4241 or fill out our online form to schedule a consultation.