Posted under:
General
Posted on: October 2, 2022
Celebrate Dental Hygiene Month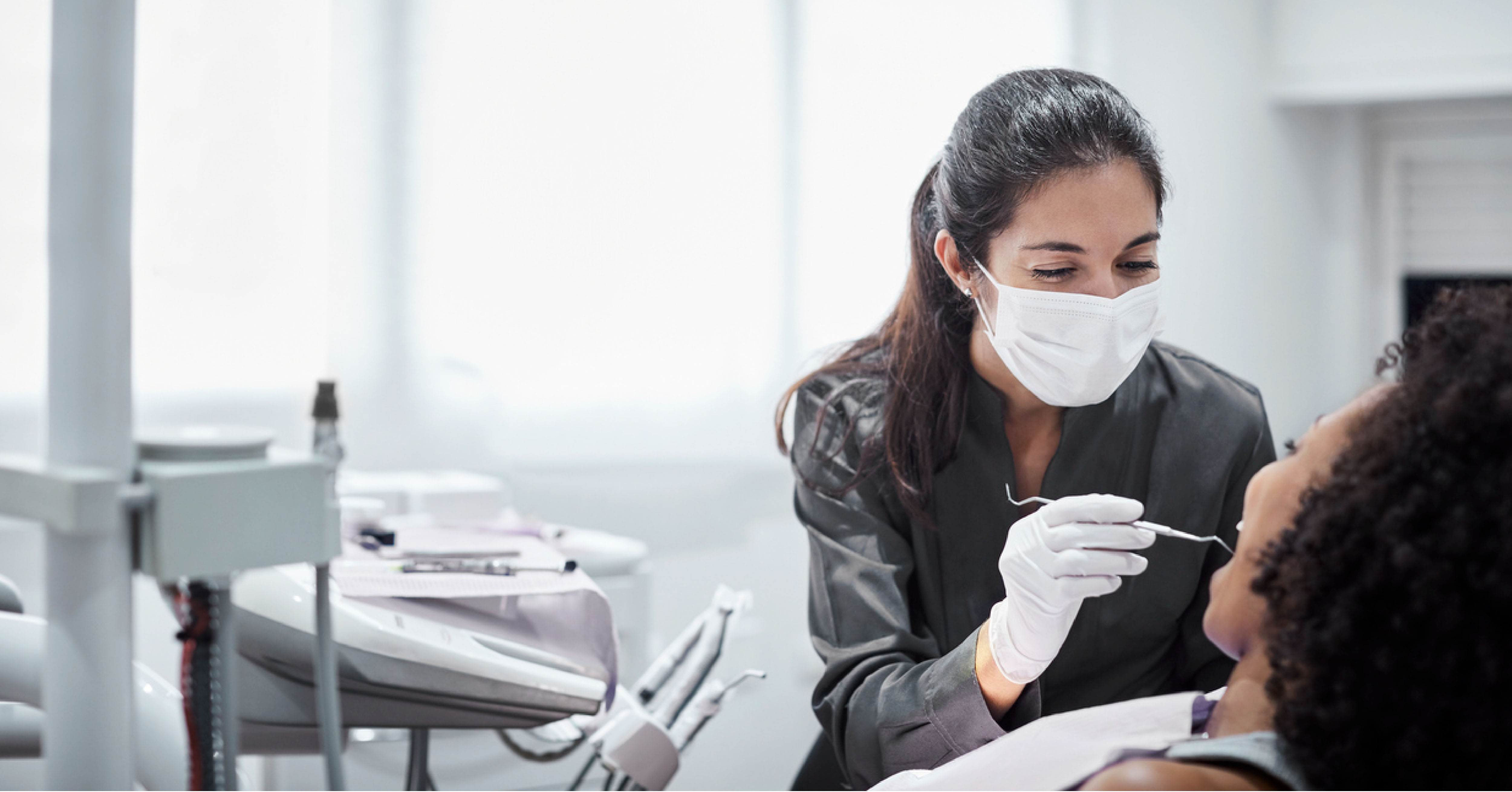 While you're celebrating cooler weather, pumpkins, and candy, this October you should also consider celebrating Dental Hygiene Month! If you're wondering what you can do to promote good dental hygiene, you're in the right place. Dental hygiene is comprised of all of the habits that you establish to keep your teeth, mouth and gums happy and healthy. It's also an essential part of your physical health. Keeping your mouth and smile healthy also boosts your self-confidence. To learn more about what you can do to establish good dental hygiene and who can help you along the way, continue reading this helpful guide.
Celebrate Dental Hygiene Month in Bloomington by scheduling an appointment with one of our dentists today!
Dental Hygienists in Bloomington
While we celebrate good dental hygiene, we also like to celebrate our dental hygienists. A dental hygienist is a specialist who has gone through training to help treat and prevent a number of diseases that occur in the teeth, gums, and mouth. Dental hygienists provide hands-on treatment to patients. They also serve as educators, researchers, and administrators at their respective practices.
Patients spend a lot of time with dental hygienists while they are visiting their dentist. The dental hygienist takes down your medical history so that the dentist can be aware of any medical issues that could impact your dental health treatment plan. Dental hygienists also interpret x-rays, clean your teeth, and give recommendations on preventative treatments. Your dental hygienist is a good resource when it comes to getting advice on the type of dental hygiene habits that you need to be establishing at home. He or she can also give you recommendations on a dental health friendly diet.
There are more than 200,000 dental hygienists currently working in the United States of America. They are essential elements of your dental healthcare team, acting as a bridge between patients and their dentists. They are dedicated to providing a comfortable environment for each patient they see.
The Importance of Dental Hygiene
While you may not know it, dental hygiene is an important part of maintaining a healthy lifestyle. Your daily dental care routine is the key to keeping your mouth and smile as healthy and happy as possible. A healthy smile will make you feel more self confident. It will also keep your physical health intact. Your dental care routine will help you lessen your risk of tooth decay, gum disease, and tooth loss. Avoiding treatment for these conditions can lead to serious health problems like heart disease, diabetes, and stroke.
Celebrate Dental Hygiene Month by Establishing Good Oral Health Habits
To celebrate Dental Hygiene Month in Bloomington, practice the four daily routines for healthy smiles:
Brush, Floss, Rinse, and Chew!
Brush
Did you know that one of the most effective ways to maintain good dental hygiene is to brush your teeth twice a day? Brushing twice daily for at least two minutes every time is the key to getting rid of food particles and built-up plaque that can lead to cavities, tooth decay, and gum disease. Here are five steps that can help you properly brush your teeth:
The 5 Steps for Effective Brushing
1. Position your toothbrush at a 45-degree angle toward the gums
2. Move the toothbrush in short strokes gently back and forth
3. Brush the other and top surfaces of your teeth
4. Adjust your toothbrush to a vertical position and brush the inner surfaces
5. Finish up by brushing your tongue to get rid of bacteria
When you brush your teeth, make sure that you're being consistent and evenly cleaning the teeth. Brushing with intensity isn't necessarily the best way to properly brush your teeth! You should also remember to replace your toothbrush every three months, as well as whenever you've been ill.
Floss
Flossing is another essential element in establishing good dental hygiene. When you floss, you are removing plaque and food particles that have become trapped in between your teeth. Flossing at least once a day can help you reduce your risk of gum disease and tooth decay.
Rinse
After you brush and floss, you may want to consider adding an antibacterial mouthwash. This can help remove even more bacteria and small pieces of food from the mouth. It's a great tool for preventing gum disease, plus it keeps your breath feeling fresh! While mouthwash is a great tool, it isn't a replacement for brushing and flossing. It should always be used alongside other dental hygiene activities.
Chew
You may be surprised to learn that chewing sugar-free gum can be a good tool when it comes to reducing your chances of developing tooth decay and bacteria buildup. Whenever you eat or drink something, the sugars that exist within that item combine with any plaque currently on your teeth to form an acid that attacks and wears down the enamel of your teeth. While enamel is one of the hardest substances within the body, long-term exposure to these acids causes the enamel to wear down, leading to the formation of cavities. Chewing sugar-free gum increases the amount of saliva in your mouth, which aids in replacing the minerals in the enamel. This assists in cavity prevention.
Celebrate Dental Hygiene Month in Bloomington by Scheduling an Appointment with One of our Dentists Today!
While October is Dental Hygiene Month, it's important that we have good dental hygiene all year. Visit your dentist in Bloomington to get a checkup and cleaning that will help you get on track with your dental hygiene. Seeing your dentist regularly is an important part of your dental care routine. Your dental hygienist and dentist will work together to keep your teeth, mouth, and gums happy and healthy. Remember, your physical health is connected to your dental health, so it's imperative that you take good care of your mouth!
Celebrate Dental Hygiene Month in Bloomington by scheduling an appointment with one of our dentists today!