Posted under:
General
Posted on: July 11, 2022
Basic Dental Care in Bloomington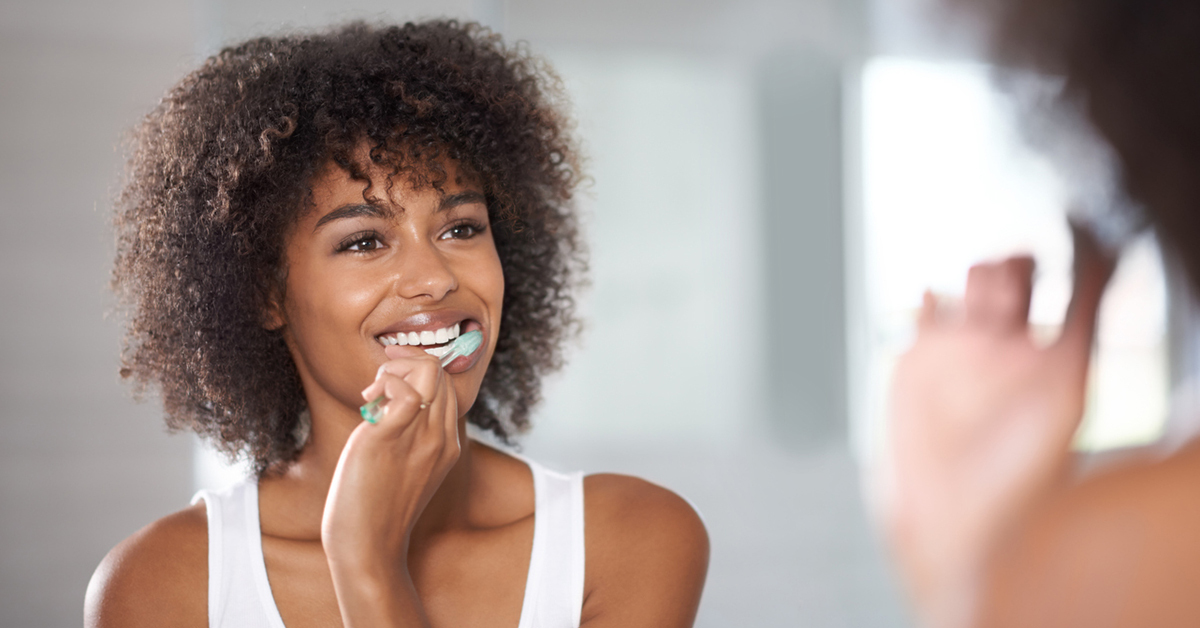 Good dental health is essential for good physical health, so if you want good overall health, you must practice good dental hygiene. What does that entail? According to the American Dental Association, it's a combination of brushing, flossing, using mouthwash, and getting regular dental checkups and cleanings. The following detailed information can help you formulate or improve a dental hygiene regimen that's unique to your needs.
What's the Definition of Good Oral Hygiene?
Good oral hygiene is defined as a program that maintains your teeth, gums, and overall mouth in good health. It may be slightly different for each individual, but generally is as follows:
Brush your teeth at least twice daily, but especially right before you go to bed. Don't eat or drink anything but plain water after you brush for the night. Anytime your teeth feel fuzzy, whether during the day or the night, they need to be brushed.
Floss at least once daily, but especially right before you go to bed.
Use fluoridated toothpaste, and it doesn't matter whether it's a gel or a paste.
Schedule dental cleanings and checkups at least annually, but bi-annually if possible.
Use an antibacterial mouthwash at least once each day. Swish it around your mouth for at least 30 seconds.
Make sure your toothpaste, toothbrushes, and mouthwash have the ADA Seal of Acceptance and use them daily!
Click HERE to schedule a dental appointment for an exam and teeth cleaning.
Other basic dental care tips include:
After you brush and floss before going to bed, avoid consuming anything else except clear water. Nighttime is an excellent time to also brush your tongue to remove anything that may have lodged in its rough surface.
When you get up, be sure to use mouthwash for 30 seconds before eating or drinking anything or brushing your teeth. This will remove any nighttime bacteria that's accumulated rather than transferring it to your stomach, where it would be digested and absorbed into your body.
If you floss only one time each day, it should be just before bedtime, and avoid eating anything after you floss. This removes any residual food particles so they won't attack and erode your tooth enamel during the night. However, flossing throughout the day after each meal or snack is better for your oral health.
Optimally, you should brush and floss during the day. However, if that's not feasible, at least rinse your mouth well with clear water after eating. This will help eliminate a substantial amount of bacteria that would otherwise start to form plaque.
Remember, your physical health is partly determined by your oral health, so brush, floss, and use mouthwash as frequently as necessary.
Twice-daily Brushing
Brushing is perhaps the most essential element of your oral hygiene regimen. Divide your mouth into quadrants and brush each quadrant for 30 seconds. A quadrant is the upper half of the left side and the lower half of the left side, and the upper half of the right side and the lower half of the right side. Brushing for 30 seconds is the best way to eliminate the plaque and food particles that may be present. Otherwise, you can develop cavities, tooth decay, and gingivitis.
Selecting the Best Toothbrush
The best toothbrush for you is the one you'll use. Make sure it's approved by the ADA, and soft bristles of varying lengths are optimal unless your dentist has recommended otherwise. Whether you use a manual model or an electric model, the important factor is that you use it.
Use gentle pressure when you brush and a circular motion that goes back and forth. Brushing faster and more forcefully doesn't work better. In fact, it can harm your tooth enamel because firm pressure can cause striations in the tooth enamel. Brush for a total of two minutes with gentle pressure, but if you have questions, be sure to ask your dentist.
Your toothbrush should be replaced immediately if you've been ill or when the bristles become frayed. Otherwise, plan to replace your toothbrush every three months.
Fluoridated Water and Toothpaste: Too Much?
Most toothpaste now has fluoride in it, as does most municipal water, so if you're concerned about getting too much fluoride, don't be. City water levels are fluoridated to only the minimum necessary for health, but if you have questions, ask your dentist.
Flossing Essentials
Several flossing options are available, such as dental floss, flossing picks, and water flossers. However, the best type for you is the one you'll use. They should all be equally effective, but if you have questions, ask your dentist. The American Dental Association recommends flossing once each day at a minimum. This helps eliminate food particles and plaque that may otherwise be in your mouth, so use any type of floss you prefer. Just remember to floss a minimum of once daily.
More Basic Dental Care Tips
In addition to all of the above, there are steps you can take to improve your oral health, such as eating more fresh vegetables and fruit. Crunchy fruits and vegetables have a cleansing effect on your teeth and help eliminate plaque and bacteria. Opt for them instead of sugar-laden cookies, candy, and cake, and substitute plain water for sugary drinks.
Antibacterial mouthwash that carries the ADA seal is always helpful in maintaining good dental hygiene. In addition to eliminating bacteria, mouthwash can freshen your breath, so you never need to worry about halitosis.
If you're constantly going somewhere, consider investing in travel-sized versions of your toothbrush, toothpaste, and mouthwash. That way, you can practice good oral hygiene no matter where life takes you. Remember, though, that as a last resort, you can always rinse thoroughly with clear water to remove bacteria and food particles.
Do My Oral Hygiene Habits Dramatically Affect My Overall Health?
Your physical health is absolutely impacted by your oral health, whether in a good way or in a bad way. When you have bacteria in your mouth, your bloodstream will transport it throughout your body, so your major organs can become inflamed. That's not good. Research has shown a correlation between oral health and the incidence of severe diseases such as stroke, heart attack, and Alzheimer's, so keeping a healthy mouth is essential to longevity and maintaining a healthy body.
Your Strongest Oral Hygiene Ally Is Your Bloomington Dentist
When you're focused on health, your dentist can be your strongest ally. Even if you have an excellent oral hygiene regimen, you may develop issues that only a professional can spot. Oral cancer is one of those issues. It usually develops asymptomatically, so you may not know you have it until it has spread to other areas of your body. Oral cancer is now responsible for more than three percent of new cancers, and if you smoke or drink, you're more likely to get it.
We include an oral cancer screening for all new patients, and it's not an invasive or painful technique. Your dentist will do the screening during your exam. If you haven't been screened for oral cancer and you're at least 18 years old, then contact The Foehr Group at (309) 740-4241 to schedule an appointment. We're one of the best dental offices in the area, and we know you'll be happy with your experience.
Call us today. We look forward to speaking with you.